We are located at 2700 Dufferin St, Toronto, by appointment only. Thank you.
VitaNurture Toronto Breastfeeding provides Professional Services by  Registered International Board Certified Lactation Consultants (IBCLC) and  Certified HypnoBirthing Practitioners in all of the Greater Toronto Area.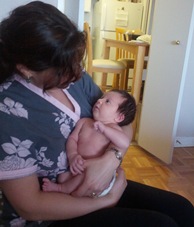 Please do not hesitate to contact us at the following number:   
SMS/Text at:
                  647 214 1516
At VitaNurture Toronto Breastfeeding you will find a warm and comfortable place. Whether you come for a breastfeeding consult, private or semi-private HypnoBirthing® session, prenatal or parenting consults our office is arranged in order to help you feel relaxed while visiting us.